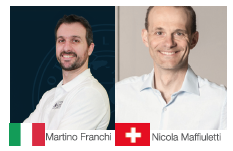 What is eccentric exercise? Though coaches and clinicians not hesitate to refer a wide range of and multiple exercise modes, involving both concentric and eccentric actions, as "eccentric exercise", there is no clear defi nition of the term other than the very simple and clear cut: eccentric exercise comprises eccentric actions only?
Highly respected muscle researchers Drs. Martino Franchi, of University of Padua, Italy and Nicola Maffi uletti, of the Schulthess Clinic, Switzerland, recently took aim at this challenge by proposing a "Reclassifi cation of Eccentric Exercise". Their Viewpoint, with the title "Distinct modalities of eccentric exercise: diff erent recipes, not the same dish" appeared in the Journal of Applied Physiology (127: 881-883, 2019), last year. Given the misuse and false use of the term,
giving rise to confusion and erroneous information and knowledge being spread, we certainly share the need for any eff ort to bring more clarifi cation on the issue and to avoid ambiguity.
The two authors distinguished between three diff erent eccentric exercise modalities and their specifi cities as: i. Isokinetic (k Velocity) ii. Isoweight (k Weight) iii. Isoinertial (k Inertia). They discusses pros and cons, research use, equipment, and the extent of accentuated and eccentric loading.
In our view, this brief paper, has merits but should not serve as a reference to defi ne or as a "Reclassifi cation of Eccentric Exercise" as the authors suggest.
We have always contended that there should be no confusion: Eccentric exercise, by defi nition, comprises muscle lengthening actions only! Our products off er coupled concentric and exercise exercise with eccentric overload (if desired)!
Hence, our claim as the leader in eccentric exercise technology and research should not be viewed as contradictory.